Cllr Beryl Hunwicks is the 46th Mayor of Woking. She was appointed on Thursday 16 May 2019 at the official Mayor-Making Ceremony, which took place at the Civic Offices during the Annual Meeting of Woking Borough Council. She will remain in office until May 2021 when she will be succeed by Cllr Liam Lyons.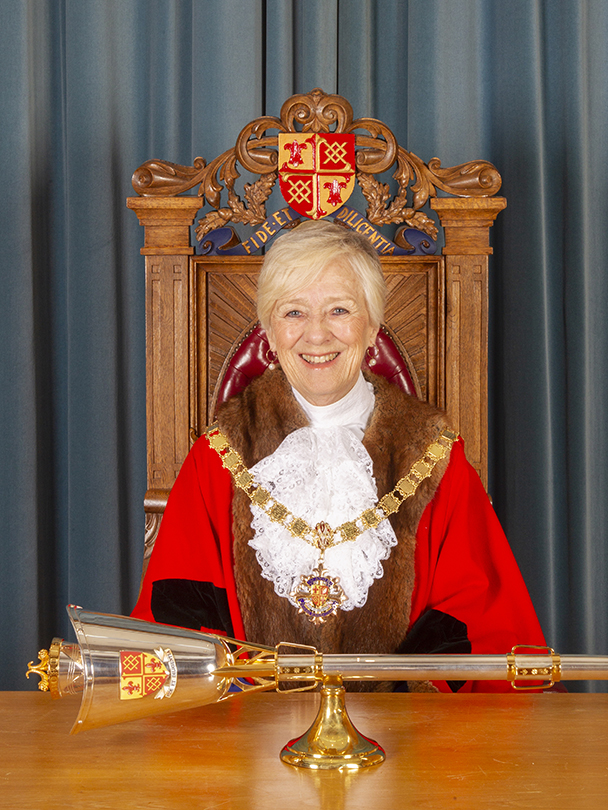 London born Beryl moved to Woking with her family in the early 1970s and she has lived for most of that time in Horsell.
Beryl became involved in local politics in 2007 after being nominated by a friend to stand for ward councillor: "I had no idea what it meant when I started, I simply knocked on every door in Horsell to meet people." explained Beryl.
Once elected, Beryl embraced the role serving many portfolios on the Council's Executive Committee including environment and sustainability, health and wellbeing, waste and recycling and community safety.
During her 12 years' as a local councillor, Beryl has also served on numerous working groups including Climate Change, Cycle Woking, Woking Joint Committee, Police and Crime Panel and Surrey Waste Partnership.
Talking about her roles, Beryl said: "I'm most proud of our work to encourage residents to recycle their waste. Since the introduction of wheelie bins, Woking's waste collection plan has evolved enormously. The amount of items that can now be collected at the kerbside is quite extraordinary by comparison to many other authorities. We have a lot to be proud of in Woking."
Looking forward to her Mayoral term, Beryl said: "Our voluntary sector is nowadays needed more than ever, they truly are the unsung heroes of Woking. I am excited about getting a closer look at the work undertaken by these groups. Woking is an inclusive, diverse place and I can't wait to attend the different events and meet people of all ages and backgrounds."
As a former teacher she also hopes to gain a new perspective on the role: "I love seeing the world through the eyes of children and am keen to know how they view the role of Mayor!"
Beryl is an active member of Welcome Church, along with husband, Alan. "Between that, my work as a councillor and life as a grandparent I don't have much free time!" said Beryl. "However, I wouldn't have it any other way, I love being busy and giving back to the community that has given us so much over the years."
Her message to people across the borough is simple: "Every person whatever their age, beliefs or circumstances should have a voice. It's by engaging and communicating that all of us can make a positive difference to the place in which we live. I look forward to seeing the wonderful work that is being done in the borough during the year."
The Mayor's charity
During 2020-21 Mayoral year, Beryl has chosen to support domestic abuse charity, Your Sanctuary.
The Deputy Mayor
Cllr Saj Hussain continues in the role of Deputy Mayor until May 2021. He will be appointed as the Mayor of Woking in May 2022 following on from Cllr Liam Lyons.
Contact the Mayor
Any correspondence should be sent to the mayoral and civic event support officer, Pauline Jackson at the Civic Offices, Gloucester Square, Woking, Surrey GU21 6YL.
Phone: 01483 743 025